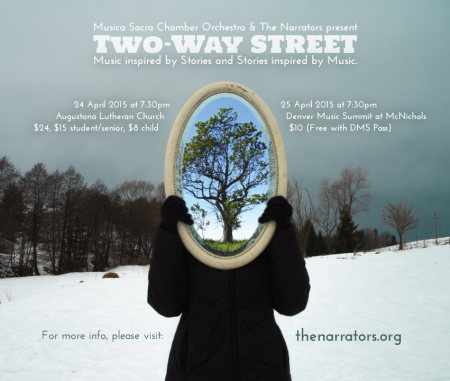 If you are one of the millions of people who have attended one of our shows and thought "I like this story, but it sure would be embettered if it had a 35-piece chamber orchestra providing some sweet orchestral jams to jack it up some," you are in luck.
Our next big collaboration is just a couple of weeks away, and tickets are on sale now to see The Narrators perform with the Musica Sacra Chamber Orchestra in a show called Two-Way Street. MSCO and The Narrators traded music and stories, respectively, for each group of performers to respond to and the result will be an evening of true stories and majestic orchestral soundtracking!
There are two chances to see Two-Way Street: Friday April 24th 7:30pm at Augustana Lutheran Church, and Saturday April 25th 8:00pm at the McNichols Civic Center Building as part of the Denver Music Summit. As a side note, if you are a musician or support the music scene in Denver, you should really check out ALL of the amazing programming that the Denver Music Summit is providing that weekend. We are proud to be partnering with them for a second year in a row, and we are THRILLED to be collaborating with the Musica Sacra Chamber Orchestra.
We've assembled a truly spectacular lineup of storytellers for this show. Here's the run-down:
We hope to see you there!