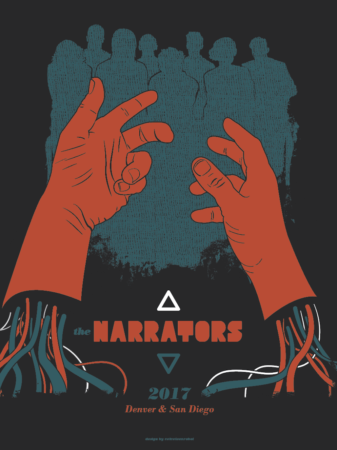 Friends,
We've finally wrested a full calendar year's worth of themes from the great big hat of themes and we are as pleased as a geek at a chicken farm to share them with you. If you're struck by any of these themes and would like to share a story at either our San Diego or Denver show, please check out our FAQ and drop us a line.
We're also working with our friend and amazing artist Michael King of velveteenrobot.com to produce a limited-edition 18″x 24″ screen print of his beautiful design seen in this post that will be signed and numbered by the artist himself before we offer them for sale early in the new year. Keep your eyes peeled for more details.
We're looking forward to a 2017 filled to the brim with life-affirming stories. See you at the show.
2017 Themes
January: Dropping the Ball

February: Red Handed
March: Popular (7th anniversary in Denver)

April: Jinx
May: Fashion Victim
June: Road Trip
July: Bars

August: Crossing Over
September: Space (2nd anniversary in San Diego)

October: In The Dark
November: Under Your Skin
December: Chance